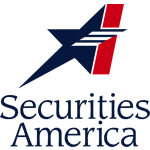 Securities America (www.securitiesamerica.com)
Securities America, based in Omaha, Nebraska, was founded in 1984. They are one of the nation's largest and most successful independent general securities broker-dealers, in part because of the wide range of investment products and services available to representatives and advisors. With more than 1,600 financial professionals nationwide, Securities America delivers suitable financial products, services and financial counsel to their clients.
Securities America is a member of the Financial Industry Regulatory Authority (FINRA) and the Securities Investors Protection Corporation (SIPC). Customer accounts are cleared through both National Financial Services, LLC and Pershing, LLC.
The Advisory division of the company (Securities America Advisors, Inc.) was founded in 1993 and is an SEC Registered Investment Advisor firm with over $13 billion in assets under management.

Pershing (www.pershing.com)
Customer brokerage accounts at Securities America, Inc. are carried by Pershing, LLC ("r;Pershing"), member FINRA, NYSE, SIPC, and a subsidiary of The Bank of New York Mellon Corporation (BNY Mellon). Pershing is a member of the Securities Investor Protection Corporation® (SIPC®). As a result, securities in brokerage accounts are protected up to $500,000 (of which $250,000 can be for claims for cash awaiting reinvestment). For details, visit www.sipc.org.
In addition, Pershing provides coverage in excess of SIPC limits from certain underwriters at Lloyd's, in conjunction with another commercial insurance company,[1] for its global customer assets and those of Pershing Securities Limited, its London-based affiliate: an aggregate loss limit of $1 billion for eligible securities across all customer accounts; and a per-customer loss limit of $1.9 million for cash awaiting reinvestment within the aggregate loss limit of $1 billion. The current excess of SIPC coverage is scheduled to expire December 10, 2012. For more information about Lloyd's, please see www.lloyds.com. Neither SPIC nor excess of SIPC coverage protects against loss due to market fluctuation.
[1] Pershing's excess of SIPC insurance coverage is provided by certain underwriters at the Lloyd's insurance market ($950M) and Axis Specialty Europe Ltd. ($50M).

National Financial (www.nationalfinancial.com)
Securities in accounts carried by National Financial Services, LLC (NFS) are protected in accordance with the Securities Investor Protection Corporation (SIPC) up to $500,000. The $500,000 total amount of SIPC protection is inclusive of up to $250,000 protection for claims for cash, subject to periodic adjustments for inflation in accordance with terms of the SIPC statute and approval by SIPC's Board of Directors.
NFS also has arranged for additional protection for cash and covered securities called "excess of SIPC" coverage, from Lloyd's of London together with other insurers[1]. This additional protection would only be used when SIPC coverage is exhausted. Total aggregate excess of SIPC coverage available through NFS's excess of SIPC policy is $1 billion. Within NFS's excess of SIPC coverage, there is no per account dollar limit on coverage of securities, but there is a per account limit of $1.9 million on coverage of cash awaiting investment. This is the maximum excess of SIPC protection currently available in the brokerage industry. Neither coverage protects against a decline in the market value of securities, nor do they cover other claims for losses incurred while broker-dealers remain in business. Certain securities are not eligible for SIPC or excess of SIPC coverage[2]. For more details on SIPC, or to request a SIPC brochure, visit www.sipc.org or call 1-202-371-8300. For ratings and more information about Lloyd's please go to http://www.lloyds.com/Lloyds_Market/Ratings/.
[1] Fidelity's excess of SIPC insurance is provided by Lloyd's of London together with Axis Specialty Europe Ltd. And Munich Reinsurance Co.
[2] Among the assets typically not eligible for SIPC or excess of SIPC protection are commodity futures contracts, currency, and precious metals, as well as investment contracts (such as limited partnerships) and fixed annuity contracts that are not registered with the U.S. Securities and Exchange Commission under the Securities Act of 1933.

USAdvisors Wealth Management (www.usadvisorswealth.com)
In today's financial landscape, success requires more than just hard work. You need a partner who is dedicated to helping you provide exceptional value in your practice in an efficient manner - so you can focus on managing relationships, not building infrastructure.
When You Work with USAdvisors Wealth Management, you get access to institutional-quality tools such as high-powered analytics, technology-enabled back office support, unbiased research, industry expertise, training, managed portfolios and Lift Consulting™…at competitive prices.
WE DO THE HEAVY LIFTING…
So You Have More Time, More Profit and More Fun.
More time because we take care of the RIA regulatory issues, perform the investment research for the portfolio models and the rebalancing for you. What does this mean to you? More time for you, your family, friends and clients.
More profit because our low fee structure is one of the most competitive in the industry. Additionally, our portfolios have trading and fees in mind by utilizing Schwab NTF and the fee sensitive Dimensional Funds within our model portfolios. Our fee sensitive strategy allows you to retain more of the fee, reduce the fee to your client or a combination thereof.
More fun because we're easy to work with. Plus…with more time and money, why not have more fun!

USAdvisors Insurance (www.usadvisorsinsurance.com)
At USAdvisors Insurance, we help financial advisors find, build and manage insurance planning opportunities. We offer vast products from high quality carriers and valuable results-oriented services to help you increase revenue, expand and fulfill your insurance planning service, and expand your network of opportunities.
We invite you to learn more about our:
• Products and Solutions for Every Client and Circumstance
• Services Geared for Results
• Competitive Contracting
• Advisor/Agent Toolbox

SuccessQuest (www.sqapps.com)
SuccessQuest helps financial institutions and professionals better prepare for and manage their businesses through our online productivity tools. Their online planning and tracking tools will help you and your firm increase referrals, develop better sales habits, focus on the most important projects, and help your employees work to their strengths and together as a team.
SuccessQuest currently has two online productivity applications:
ReferralPod (www.referral-pod.com) is a leading edge, online application that helps advisors and institutions build, refer and track referrals with excellence. With the ability to leverage referral partners, both within and outside your organization, you can easily track and create reports, all with "One-Click"... allowing you to make your referral process efficient and productive. Referral opportunities won't fall through the cracks anymore.
ActivityPod (www.activity-pod.com) allows institutions and their managers to build activity plans, track performance and as a result achieve measurable success like never before. It ensures that your organization's people focus their efforts on activities that build success and provide your organization with a simple system to hold them accountable. ActivityPod allows you to create unlimited activity trackers and tracker templates with powerful reporting. ActivityPod is activity tracking made simple.